*Loud rumbling coming from the distance*
Do you hear that?
That's the AI train.
It's already transformed how we create content, edit photos, write code, read PDFs, and take voice notes.
It's not stopping there though.
Next up? It's coming for web design.
In this article, I'm going to share the best AI site builders that exist on the market today in 2023.
But before we dive in…
You may notice that this list is quite short.
The reason? There are barely a handful of AI site builders that are actually good.
Most tools that call themselves an AI site builder generate AI content, slap it on an ugly template, and lock you in to a particular layout.
They're hardly usable in real-life.
The builders on this list go far beyond that.
They allow you to create real, professional, *almost* production-ready websites.
They let you define your website structure and fully customize the look & feel before hitting publish.
Consider them a super helpful assistant in creating a good first draft.
*Important Note: We've personally tested every product mentioned in this article. Some of the links below are affiliate links, are we may receive a small cut should you want to buy the product. There's no extra cost for you – it's just a little way you can help support us. You can read about our affiliate promise here.
1) Relume AI Site Builder
The Lowdown
👉 What It Does: Sitemaps, wireframes, content, and Webflow exports
👨‍💻 Best For: High-end, custom-designed websites
🧰 Compatible With: Figma, Webflow, Framer, and other builders
📄 Multi-Page Layouts: Yes
If you're a professional web designer who builds custom sites for clients, Relume Library's AI site builder is the ultimate companion.
Unlike most other AI builders, it aims to assist you – not replace you.
It doesn't try to provide a finished website with the click of a button.
Instead, it focuses on speeding up your workflow.
From design, to development and content.
It keeps you in control of the critical decisions and overall direction (where you provide the most value), and simply fills in the blanks along the way to help move things along faster.
How It Works
Create Your Sitemap
The first step is to enter a few sentences describing the company.
You'll get a full sitemap not only containing all your pages, but also the sections that should go on each page and the purpose they serve.
All of this is customizable, so you can fine-tune your sitemap for your exact needs.
Build Your Wireframe
When you click View Wireframe, that's when the magic really kicks it up a gear.
Your sitemap is converted into a wireframe, with each section laid out using components from the Relume Library Figma Kit.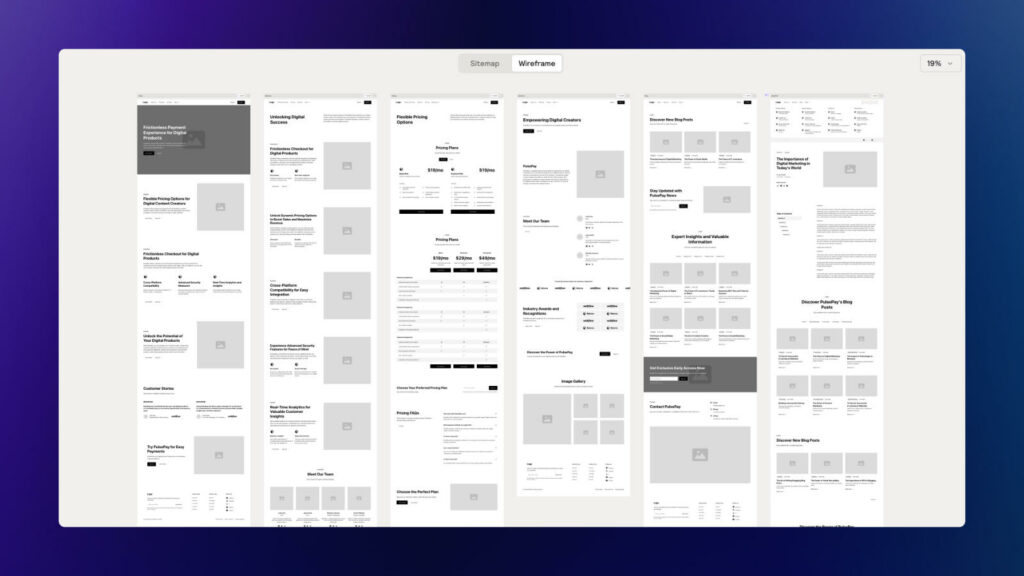 If you don't like a particular layout, you can swap through different variations for that category of sections.
It also adds AI-generated content to each section.
Add Your Design
Now that you have a high-fidelity wireframe to work with, the AI hands its reigns over to you.
Add your design to bring the site to life.
Build in Webflow (or your builder of choice)
The last step is to start building out your pages.
You can of course use the Figma design with whatever builder you choose, but Relume Library has a direct Webflow integration to speed up the process.
This means you can copy your entire wireframe into Webflow, and simply add whatever styling changes you made in Figma.
Pricing
Relume's AI Site Builder is available as part of their Starter ($32/mth) and Pro ($40/mth) plans.
However, you can bring the price down using a NewPulse Labs exclusive coupon code.
Just click here and use the code NEWPULSE to get 20% off the Starter and Pro annual plans.
Overall Thoughts
The Relume AI Site Builder is perfect for anyone who wants to maintain control over every stage of the web design process.
It provides a solid foundation to get started, and gives you (the expert) the freedom to make the strategic layout & design decisions.
This is especially useful when you're working on $10k+ projects and need to create a design that's specifically tailored to the needs of the company.
2) ZipWP
The Lowdown
👉 What It Does: Design, development, content & images, forms
👨‍💻 Best For: Starter sites, small business sites
🧰 Compatible With: WordPress, Spectra
📄 Multi-Page Layouts: Yes
ZipWP has taken a hybrid approach when it comes to building websites with AI.
It's one of the few AI builders that I think will nail the convenience + control equation once it's fully released.
In just a couple of minutes, you end up with a fully designed website that you could almost just hit "publish" on.
(Frankly, the final design is also better than most websites you see out there).
At the same time, it still provides you with control within the process.
You set the direction, and it takes you across the finish line.
How It Works
Add Your Business Details
When you go to create your new AI-built site, ZipWP will ask you a few questions about the business.
Select Your Images
Rather than slapping on a bunch of images that might not be related to the business, it gives you the option to search and select images you'd like to use for the site.
If you plan on using custom images across the site, you can always skip this step. It will still try to provide images it thinks is relevant.
Choose a Design Layout
Of course, AI can't really design sites from scratch (at least not yet).
ZipWP lets you choose from their hundreds of layouts to use as your base design.
In the future, ZipWP will also allow you to swap out different section designs from within the pages as well.
Review The Site
After about 1-2 min, ZipWP will finish creating your new WordPress site – design, content, images, forms and all.
This is the time to go through all the different pages to see if it fits what you were looking for.
If not, you can try going back to creating a new site and modifying your prompts for a different output.
Migrate To Your Hosting
Under the free plan, your AI-generated sites will only be available on ZipWP for a limited amount of time.
I'd recommend using a backup plugin like WPvivid to export the site to your own hosting.
Edit Content As Needed
Now that you've got a good first draft, you're able to edit the design, content and images to fit your needs.
ZipWP uses Spectra blocks alongside the Astra theme, so it's really easy to edit content using the WordPress block editor (aka Gutenberg).
Pricing
At the current moment, ZipWP is completely free. There will likely be Pro plans available in the future.
Overall Thoughts
I think ZipWP opens up new doors of opportunity.
If you're a web designer, it lets you take on smaller projects without them becoming a time sink.
Rather than turning down that $3k project because it's too small fries, you could use ZipWP and complete it in days instead of weeks.
Or you could pair it with something like $149 subscription-sites (you can learn more about subscription-sites in my recurring revenue guide), and build a completely new business model for your web design agency.
And if you're a business owner, it lets you get a nice-looking v1 website up quickly.
Knowing the team behind ZipWP and the plans they have for it, I'm excited to see where the project goes.
There is still lots to come.
3) Framer AI
The Lowdown
👉 What It Does: Design, development, content & images
👨‍💻 Best For: Starting point for creative websites
🧰 Compatible With: Framer
📄 Multi-Page Layouts: No
There was a lot of hype leading up to Framer AI's release. You know – teaser videos of people's jaw hitting the floor.
But they had built up so much hype that when it was finally launched, it was a bit of a let down.
It's certainly better than many of the other AI site builders I've tested, but at the same time it's also not particularly impressive.
I think it serves more as a preview of what could be possible in the future vs. actually being a useful AI site builder today.
How It Works
Add Your Description
All you need to do to build your new AI site is enter the business description.
And it starts building the design right in front of you.
Review Your Design
In less than a minute, you'll have the page (along with the mobile version) ready to look over.
Change The Theme
You can give the design a whole new look by changing the color palette and font combo.
Pricing
Framer AI can be used on any of their paid plans.
Pricing depends on the features & visitors/mo you need for the site.
As a Framer partner, I'm able to get you 25% off your first year of the Pro plan (3 months free).
Just make sure to use this link and enter the promo code partner25proyearly at checkout.
(You can read more about this deal here).
Overall Thoughts
Framer AI can make for a decent starting point for certain types of websites.
The designs all follow a similar artsy & bold aesthetic, so I'm not sure it's suitable for the majority of local or online businesses.
It'd be better for personal websites or magazines.
It will also only generate one page for you, so you'll need to use the design elements and manually create any other pages you need.
Luckily the Framer editor is easy to use, and is a good all-around site builder that allows you to create pages visually (you can read my full review on it here).
Aside from aesthetics, another weak point is the lack of user input. The only thing you provide direction on is the business description.
This makes it far more likely that the end result isn't going to be exactly what you were looking for.
But even with all that said, Framer has the team & resources to continually improve the AI logic – making this one to keep an eye on in the future.
Which AI site builder should you use?
The site builders on this shortlist all present interesting options.
Rather than suggesting that one AI site builder is better than another, my recommendation depends on the type of site you're building.
I'd recommend trying each of the builders to see which ones fit your workflow best.
---
That's all for this one!
Since this is an industry that will be developing rapidly, I'll be updating the guide frequently.
Leave a comment below if you've had some time to play around with the different AI builders, or if you think there's one I should add to the list.
Thanks for reading!