Free Resource
Link In Bio Template
Don't let visits to your social media profile go to waste. Download this free template to convert your followers into clients.
👉 Download For Free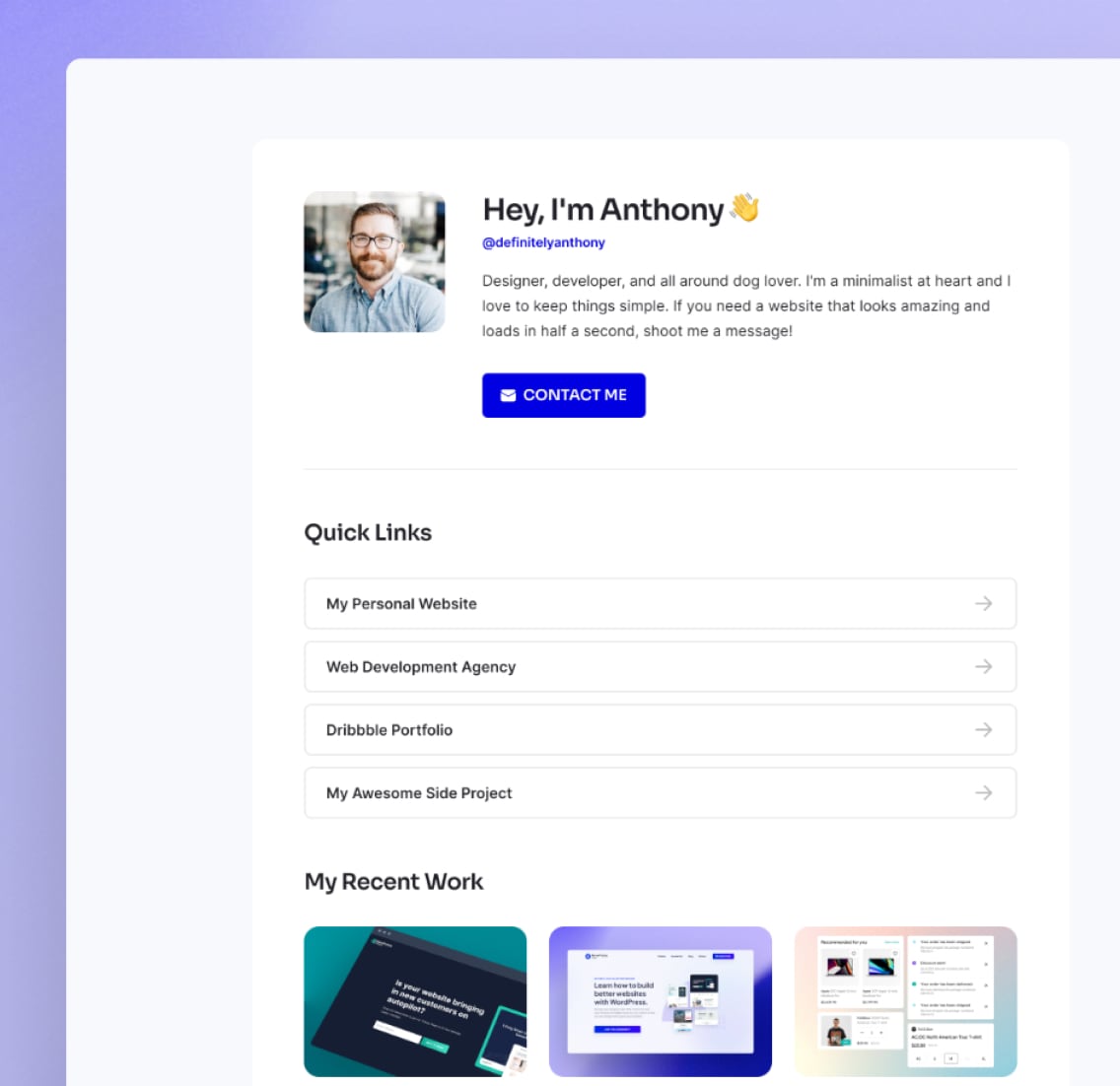 Preview
Available For
Get Started in Minutes
Download the template
You can download the template file or copy the shortcodes in one click.
Import into your builder
Import the template or simply hit paste inside of a new page.
Start customizing
Swap in your bio, your links, your recent work and you're done!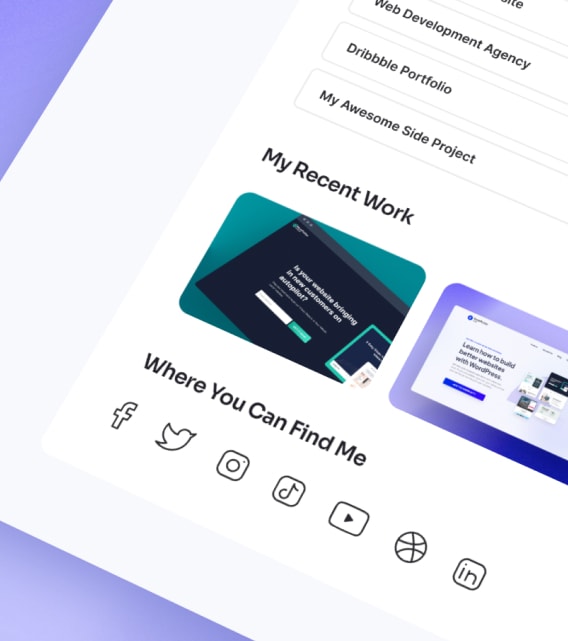 Show off your work and attract new clients.
Your social media profile only says so much about you.

You can use this Link In Bio template as a hub to share all your important links and portfolio pieces.

By creating a central hub for your work, you make it easy for potential clients to find everything they need to know about you in one place.
Get The Template
Gain more followers across all your social platforms.
When it comes to building a following, you don't want to put all your eggs in one basket.

By promoting your other platforms in your bio, you can encourage your followers to connect with you in more than one place.

As your following grows across multiple platforms, you'll be building a more engaged fanbase that will help create opportunities for years to come.
Get The Template
Ready to use straight out-of-the box.
Made for Figma, Bricks Builder, Oxygen Builder & Cwicly (coming soon), importing the template takes two seconds.

With a clean & minimal design, it can fit within your branding with very little customization needed.

If you want, just adjust the typography and colors and you're good to go!
Get The Template
"This is so versatile. I will be using this for not only myself but my clients work. I can't believe it's free. I've seen templates for $75+ that aren't as polished and well structured."
Download the Link In Bio Template
Start getting more clients from your social media profiles. Works with Figma, Bricks Builder, Oxygen, and Cwicly.
Download Now
Frequently Asked Questions
No catch! We're using this as way to generate exposure for our The Lab Report newsletter.

When you click the Download Now button, you'll be asked if you want to subscribe. If you'd prefer not to, there's a link to skip the opt-in.
This is totally free and 100% customizable. You can edit it like any other page on your website.

Of course, that means you need to already have a website you can import the template on.

The Link in Bio template is currently available for Figma, Bricks Builder, Oxygen, and Cwicly.

If there's another tool you'd like to see added to the list, you can request it here.
No! While that's how the demo content is laid out, you can easily modify it for your needs.

This Link in Bio template would work well for freelancers, creatives, content producers, and even company pages.

The process is slightly different for every tool, so we provide a detailed walk-through on the download page.