Are you looking for an automation platform to easily connect all of your WordPress sites, plugins, and external apps together? If so, you might want to continue reading this review of SureTriggers.
If you're like most WordPress site owners, your favorite question to get asked at a party is probably "so what's your tech stack?"
(Unless that's just me?)
Our tech stacks are literally the backbone of our online businesses, and each new layer provides the potential to grow or streamline the business drastically.
And while it's exciting to think of building a well-oiled money-pumpin' machine, it ain't always sunshine and rainbows.
The excitement often quickly wears off when it comes to getting things to work together.
Getting a checkout form to integrate with your LMS? Ok, sure.
Getting the LMS to sync with your CRM based on enrolled courses? Uhhhhh, maybe.
Adding a tag to the user based on what % of a course video they watched? YEAH GOOD LUCK.
Luckily, modern automation platforms are slowly making it easier to connect all the moving pieces.
We now have popular platforms like Zapier, Make, Uncanny Automator, and AutomatorWP.
But many of them are either super expensive, lack deep WordPress integration, or eat up server resources and slow down your website.
That's why when I saw SureTriggers come along, I was curious about how it would compare to the alternatives.
In this SureTriggers review, I'm going to take a look at how it works and whether or not it's the automation platform we've been waiting for.
*Since SureTriggers is still in the beta stages, new features are surely going to come quick. I'm going to continue adding to and improving this review over the coming weeks.
Important Note: I personally tested SureTriggers, and this review is in no way sponsored or paid for by the product creator. Some links may be affiliate links, should you want to buy the product. There's no extra cost for you – it's just a little way you can help support us. You can read about our affiliate promise here.
🧵 What is SureTriggers?
SureTriggers is an automation platform for WordPress that integrates with your websites, plugins, and third-party apps.
It's a Zapier alternative that can connect natively with the software you use to power your online business.
Like Zapier (but unlike most of the other automation platforms for WordPress), SureTriggers is cloud-based.
This means that all your automations & tasks run on SureTriggers' servers, and you use a connector plugin on your website to integrate it with WordPress and your plugins.
There are always pros and cons to this approach.
The downside is that it means you need to rely on their servers being operational for your automations to go through.
This is the same for any other SaaS platform you have in your stack, so I don't think it's an especially large risk.
The upside is that you're not putting an additional load on your servers, and the automation logs aren't adding bloat to your database.
WordPress sites can be difficult enough as it is to keep lean, so in this case I'd gladly offload my automations onto the cloud.
Who is behind SureTriggers?
SureTriggers was created by Adam Preiser (from WPCrafter) and his team.
Having started by publishing helpful YouTube videos based around WordPress, Adam has since quietly built an impressive portfolio of SaaS companies.
Some of his other companies include CartFlows, Presto Player and now SureCart & SureMembers.
P.S. I've also written an in-depth review of SureCart and review of SureMembers.
Also on the team are Sujay Pawar from Brainstorm Force (the makers of Astra theme), Ben Bartling who has had multiple successful SaaS exits, and Andre Gagnon, a talented designer/developer who was behind ProjectHuddle.
🧑‍💻 Who is SureTriggers for?
SureTriggers is for WordPress site owners who rely on various apps to power their online business.
This includes CRMs, learning management systems, membership plugins, form plugins, ecommerce solutions & more.
An automation platform helps you save time by connecting all these software together and eliminating manual tasks.
Having data that is synced across platforms also helps you make more informed decisions about your business and opens up new revenue streams.
Here are some examples of things you can automate with SureTriggers:
Add contact form submissions to your CRM if they meet a certain criteria
Create a new user on Site B when a checkout is made on site A
Send an SMS to a user after they've gone through your first course module
Add all new email signups to a Google Sheet
Add an attendee to a Zoom meeting after they've filled out a survey
If you just have a static 5-pager brochure website, SureTriggers probably won't be very useful to you.
🎮 How SureTriggers Works
The Main Dashboard
The dashboard gives you a good overview of everything going on with your SureTriggers account.
It provides a shortcut to create a new automation, see your recent automations, and see how many tasks & automations you've used out of your plan limits.
Connecting Your Apps
The first thing I like to do is connect all of the apps I want to automate.
That way they'll be ready to use once we go to set up our first automation.
SureTriggers has a growing list of integrations, which we'll talk more about shortly.
When adding an app, the info you'll need to provide depends on the integration.
Some will require API keys, while others use oAuth or webhooks.
SureTriggers provides a link to obtain any API keys you might need, so overall I found the process of adding apps simple & straightforward.
I should also note that you can add more than one integration for each app.
That means that if you wanted to connect your site to two different Twitter accounts for example, you could easily do that.
Creating a New Automation
When creating a new automation, you'll first need to select your trigger.
That will place it at the top of a really clean looking visual canvas.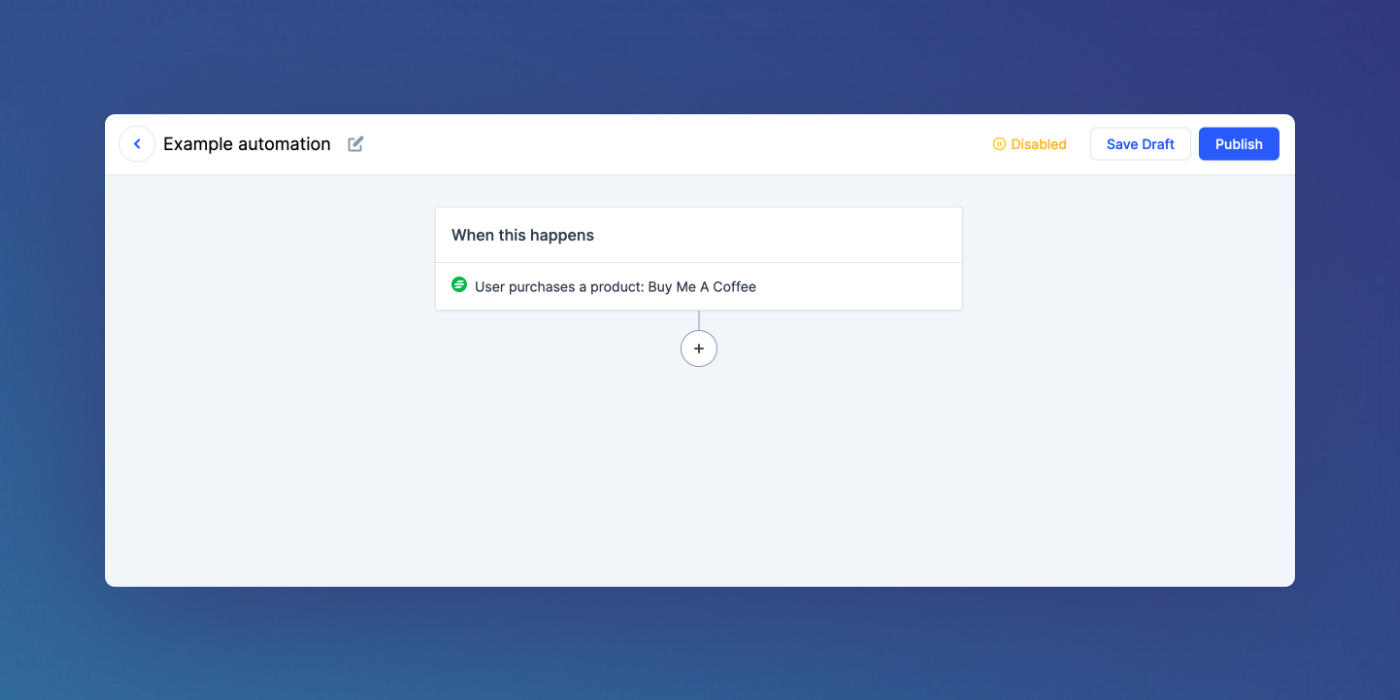 From there you can start adding your first action.
This will feel similar to adding your trigger, except you're also able to add time delays and conditions directly to the action.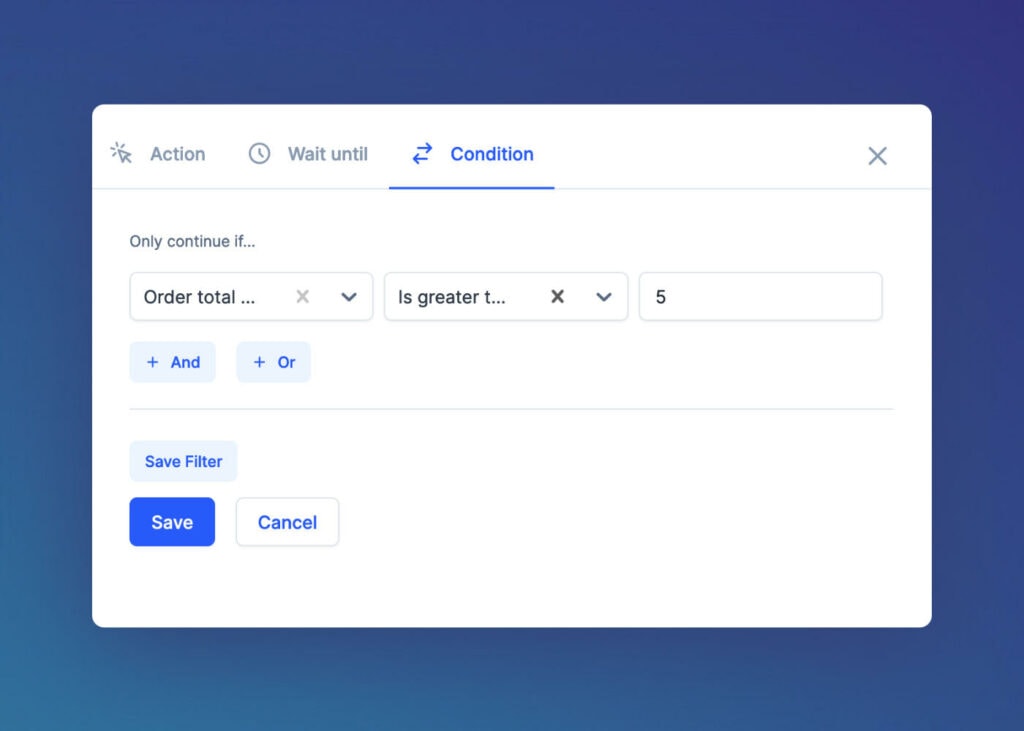 If you're just building a simple automation, that's all there is to it!
In this automation, we now have an ActiveCampaign tag get applied if the user purchases a specific product in SureCart and the total order is over $5.
Branching
For more advanced automations, you might instead want your conditions added to the canvas to create YES/NO branches.
Using this approach, you can create a series of conditions that trigger any combination of actions.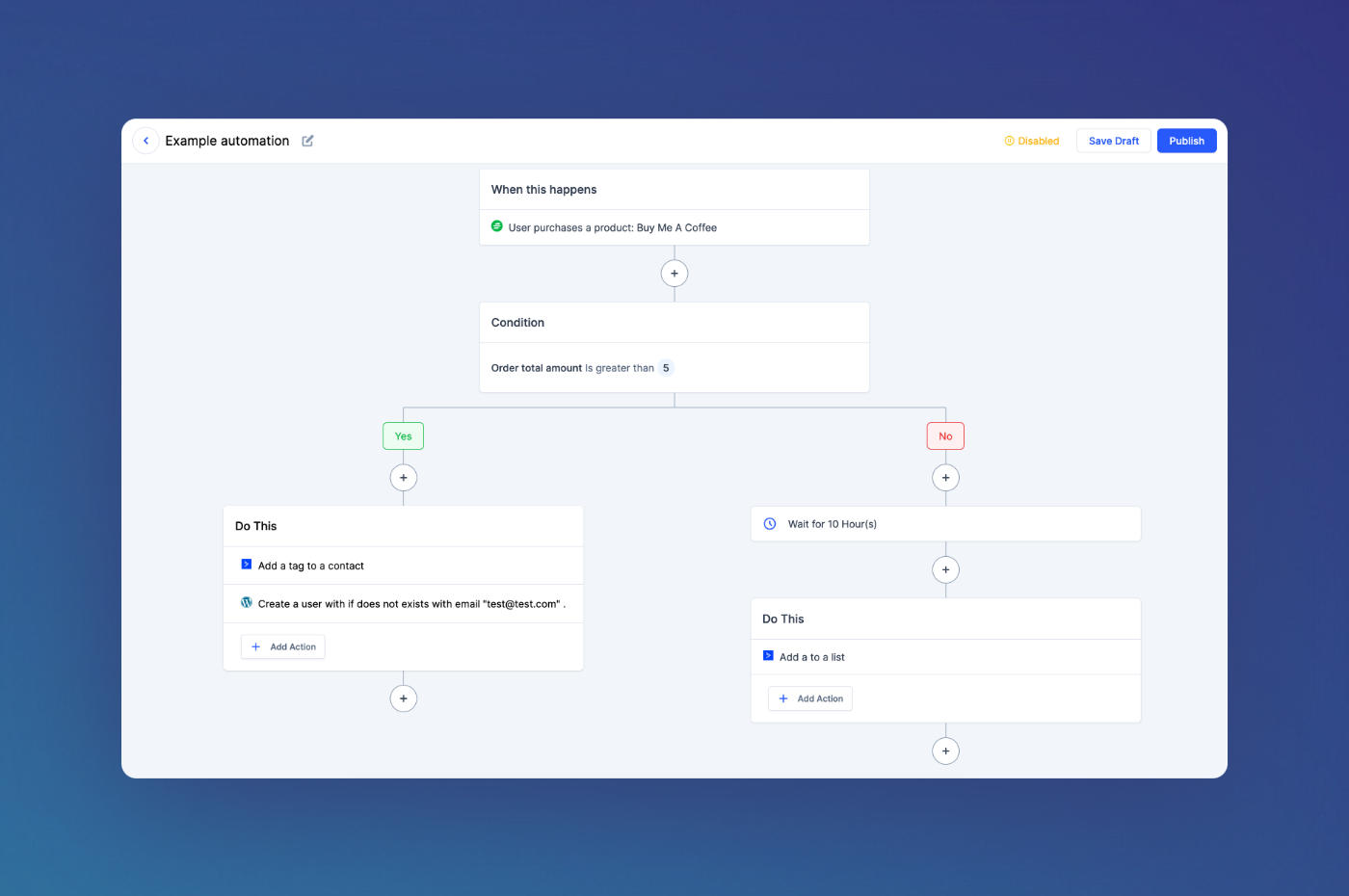 In case you're wondering, SureTriggers supports nested branching.
This means you can add conditions within conditions for highly segmented automations.
Managing Your Existing Automations
On the Automations page, you can see all of your automations at a glance.
From here you can quickly toggle them ON/OFF, see how many times they've run, see when they were created/last run, and of course delete them if you'd like.
Clicking on an automation brings you back into the visual editor.
Viewing Your Task History
On the History page, you can see a log of all the tasks that have run.
I was actually quite surprised to see how granular the data was here.
It doesn't just show which automations have run – it shows each and every task along with their status.
This could get overwhelming once you have thousands of tasks getting processed each month, but SureTriggers does a great job of allowing you to filter the tasks to find exactly what you're looking for.
You can filter by:
Status (In Progress, Completed, Failed)
Date Range
Automation
App
Importing/Exporting Automations
Another unexpected feature is that you can already import & export your automations.
If you've built a complex automation for one client, you can easily export the automation and import it into another client's account.
You would need to make sure all your apps are properly connected, but the fact that you don't need to re-create your automations from scratch is a huge time saver.
🧩 Integrations
Since SureTriggers hasn't publicly launched yet, it's still a little short on the number of integrations that are available.
It does already integrate with a number of core services though, and new ones are getting added often.
The full list will eventually become too expansive to include in this blog post, but here are a few of SureTrigger's key integrations.
Ecommerce
WooCommerce, SureCart, and CartFlows.
Form Plugins
Gravity Forms, Fluent Forms, and WP Forms.
Page Builders
Beaver Builder, Divi, Elementor and Spectra.
CRMs
ActiveCampaign, ConvertKit, FluentCRM, MailChimp and Sendinblue.
Membership Plugins
SureMembers, MemberPress, Restrict Content Pro and Wishlist Member.
Learning Management Systems
LearnDash, LifterLMS, and TutorLMS.
Miscellaneous
Google Drive, Google Sheets, JIRA, Twilio, Twitter, Presto Player, Vimeo and Zoom.
🚲 Ease of Use
I've been really impressed with the SureTriggers UI.
It looks sleek & modern, and building automations is a very intuitive process.
The visual canvas is a huge selling point compared to some other platforms.
Seeing your actions & conditions in a flow chart makes it much easier to understand what's going on compared to something like Zapier – which only allows you to build linear automations.
🛟 Customer Support
I haven't had to contact support for SureTriggers just yet, but my general experience with the 'SureX' family of products has been very positive thus far.
I've received responses within 24 hours, and they've all been actually helpful.
I will update this post over the coming months as I have more interactions and see the general sentiment in my social circles, but given the developer's reputation, I don't see support becoming an area of concern.
💵 Pricing
Pricing for SureTriggers has not yet been publicly announced.
We'll likely see a Free, Pro, and Ultimate plan.
SureTriggers has hinted that the Free plan will be quite generous and suitable for many users.
The Pro plan will include more automations and enable advanced features like conditions, filters, multi-step, and auto-retry.
The Ultimate plan will include all the Pro features, but have pricing scale based on the number of tasks included.
There will also be a few different avenues for users to get a Pro plan for free.
Adam mentioned that customers of SureCart Pro (coming Q4 2022), CartFlows and the Astra Growth Bundle will get a Pro membership for free.
🔥 Do I Recommend SureTriggers?
It's still quite early, but I'm excited to see SureTriggers evolve over the coming months.
Most of the groundwork is already in pace.
The platform looks great, it's easy to use, and you can create powerful automations.
The main thing now is just increasing the number of integrations available – as well as the number of actions available within each integration.
We'll see what the official pricing looks like at launch, but I expect it to be a fraction of Zapier's for the number of tasks that are included.
Overall, I can see SureTriggers becoming a no-brainer for any dynamic website built with WordPress.
☁️ How to Download
SureTriggers is currently in a private beta and not yet available to the general public.
For the best chance of getting in on a beta version, I'd recommend joining their SureCart Facebook group.
You can also join their waitlist here to get notified when they officially launch (likely Q4 2022).
---
That's all for this one.
Hopefully you found this SureTriggers review helpful, and be sure to let me know in the comments section below if you ever get a chance to try it out.
Thanks for reading!
---