Are you looking for a lightweight membership plugin to easily restrict access to content on your WordPress website? If so, you might want to continue reading this review of SureMembers.
Membership plugins aren't anything new in the WordPress world.
They've actually been around for a reeaally long time now.
MemberPress was founded in 2013, WishList Member in 2008… and anyone remember Digital Access Pass (DAP) from back in the day?
Then there are other popular membership plugins like Paid Memberships Pro, Restrict Content Pro, MemberMouse, and WooCommerce Memberships.
Safe to say, it's a mature product category at this point.
But that might be the exact reason why many membership plugins today feel dated.
They're often packed with way too many unwanted features that slow down your site or have clunky UIs that feel stuck in 2010.
So when I saw that a new plugin called SureMembers was in the works, I was curious about how this would differentiate itself from the crowd.
Here's my review.
*Since SureMembers was recently just released, new features are surely going to come quick. I'm going to continue adding to and improving this review over the coming weeks.
Important Note: I personally tested SureMembers, and this review is in no way sponsored or paid for by the product creator. Some links may be affiliate links, should you want to buy the product. There's no extra cost for you – it's just a little way you can help support us. You can read about our affiliate promise here.
🪪 What is SureMembers?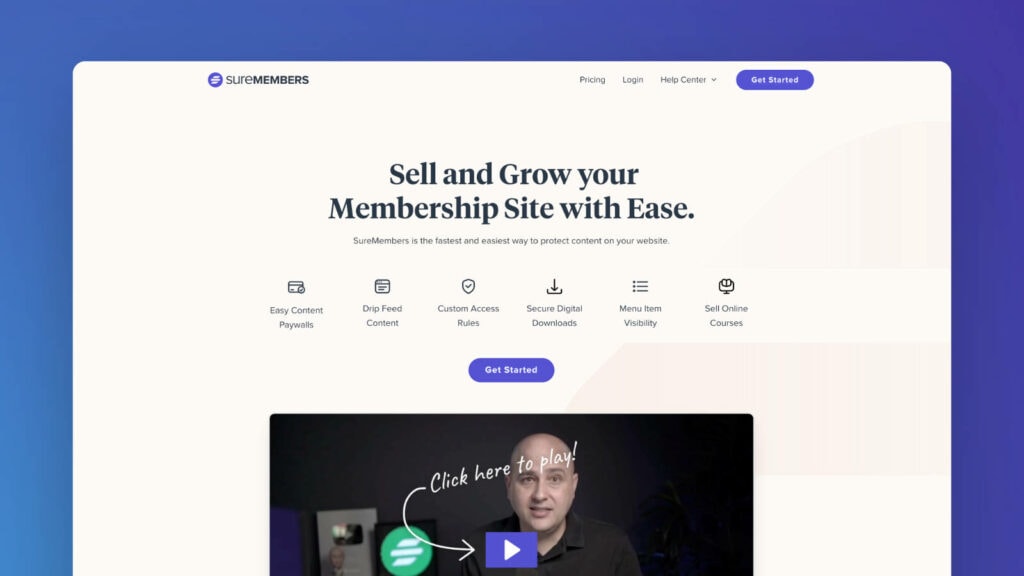 SureMembers is a content restriction plugin for WordPress.
"WAIT! I thought it was a membership plugin?"
It is, but it's a slimmed down version of one.
Normally membership plugins are packed with built-in checkouts, subscription billing, content restriction, member dashboards, LMS functionality, various addons and more.
That all sounds great, except when you consider that most all-in-one platforms struggle to perform each individual feature well.
SureMembers cuts out all the excess, and simply manages the content restriction side of things.
It has one job: control who can see what on your site.
This modular approach means that you can pair it with a dedicated checkout platform like SureCart or WooCommerce (integration coming soon).
You can also use it within SureTriggers to create advanced automations.
For example, if someone signs up for your email list through ActiveCampaign, you can use SureTriggers to create a new user on your website and add them to a SureMembers Access Group (more on that in a second).
What you're left with is a membership solution that is simple, flexible, lightweight, doesn't slow down your website, and is optimized for conversions.
Who is behind SureMembers?
SureMembers was created by Adam Preiser (from WPCrafter) and his team.
Having started by publishing helpful YouTube videos around WordPress, Adam has now quietly built an impressive portfolio of SaaS companies.
Some of his other companies include CartFlows, Presto Player and now SureCart & SureTriggers.
Also on the team are Sujay Pawar from Brainstorm Force (the makers of Astra theme), Ben Bartling who has had multiple successful SaaS exits, and Andre Gagnon, a talented designer/developer who was behind ProjectHuddle.
🧑‍💻 Who is SureMembers for?
SureMembers is for WordPress site owners who want to restrict access to content based on different membership levels.
This is useful for:
Online courses
Ebooks or digital downloads
Exclusive blog posts or tutorials
Videos or audio files
A private members forum or group
Turning your website into a membership platform is great for monetizing your site and generating recurring revenue.
You can create exclusive tutorials, charge members a monthly subscription for VIP access, and then only allow the VIP members to see your tutorials.
Or you could create a digital product, charge a one-time fee, and allow your customers to access any of your pages related to that product.
The use-cases are endless.
🎮 How SureMembers Works
Initial Setup
When first installing SureMembers, I was almost shocked at how simple the controls are.
Having used a couple different membership plugins extensively in the past, I was expecting to go through a few pages of configuration.
Instead, I just needed to input my license key and look over a couple options.
I was a little skeptical at this point of what the plugin could accomplish with such a basic setup, but I carried on anyways.
Creating Access Groups
The first thing you want to do is create an Access Group.
Think of an Access Group as a broader term for a Membership Level.
You can add members to an Access Group, and then assign content control based on your Access Groups.
Page Rules
After you give your group a name you can specify what content you want to protect.
You can choose your entire website, all posts or pages, or get more granular and choose specific pages, posts, taxonomies etc.
You also have the option to exclude posts/pages from your rule above.
Drip Content
SureMembers allows you to drip content.
This means you can show specific content over time based on your set schedule.
For example, if you have four different modules in your course, you might only want to provide access to each module one week at a time.
Unauthorized Access
This is where you determine what happens if someone visits your content who isn't part of the Access Group.
You have the option of redirecting them to another page or showing them a message.
You're allowed to use HTML in your message, and a more advanced content editor will apparently be available in the future.
Priority
What happens if a user belongs to more than one Access Group?
That's where the priority comes into play.
If your content is restricted for one Access Group but not the other, the higher priority will prevail.
Restricting Pages
Instead of being forced to manage all your page rules from the Access Group, you can protect/unprotect a page right from the page itself.
That way you don't need to navigate back and forth a hundred times to protect your pages or see if a page is restricted.
Block-Level Control
This might just be my favorite feature.
SureMembers adds a "Restrict This Block" panel to all of your blocks in Gutenberg.
That means you have the ability to conditionally show/hide any element inside of Gutenberg based on your Access Groups.
You're not just limited to restricting pages.
It doesn't matter if it's a section, an image, a paragraph, or a third-party block.
For example, you could create a CTA on your site for users to upgrade to your VIP plan, and hide the CTA if someone is already part of that group.
I like this implementation a lot better than some other membership plugins, where they only let you restrict content inside their dedicated Gutenberg block.
Managing Members
You can see all members that belong to an Access Group either through the Access Groups admin page or through WordPress' native Users page.
SureMembers adds a couple elements to your Users page which lets you filter by Access Group, and shows each user's active Access Groups beside their username and email.
If you click on an individual user, you can manage which groups they belong to and see when they were added to that group.
🧩 Integrations
SureCart
As you can imagine, SureMembers has a direct integration with SureCart (which is created by the same team).
When a user purchases a product or subscription using SureCart, you can instantly add them to one of your Access Groups.
This will get even more powerful when SureCart Pro brings order bump and upsell functionality.
You can read my in-depth review on SureCart here.
WooCommerce
If you're already using WooCommerce on your site, you can create a new product and link it to your Access Groups.
This integration is coming soon.
SureTriggers
SureTriggers is a powerful automation platform (similar to Zapier) that lets you connect your WordPress site, plugins, and other SaaS apps together.
You can easily add members to your Access Groups when an event is triggered from another app.
You can read my in-depth review on SureTriggers here.
Elementor
Similar to the block-level control for Gutenberg mentioned above, SureMembers adds a setting to control an element's visibility based on your Access Groups.
Other Page Builders
Even without a direct integration, SureMembers is compatible with all page builders and themes.
You can either use a shortcode that you can wrap protected content in:
You can also assign a user role to your Access Groups. So if your page builder has display conditions, you can easily set your element's visibility based on user role: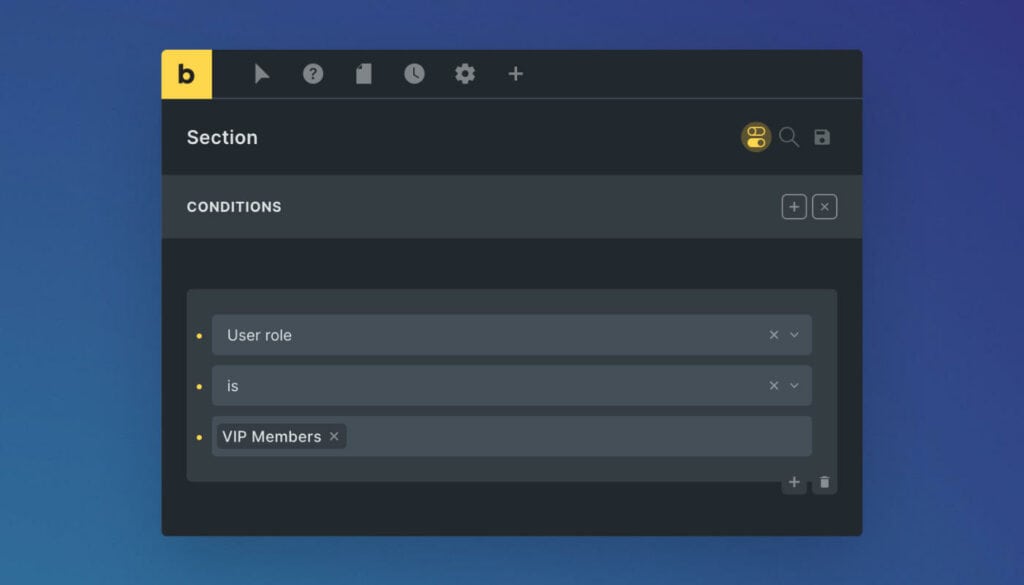 🚲 Ease of Use
I'm going to score this one a 10/10 in terms of ease-of-use.
SureMembers only has one core function, and all your controls are exactly where you'd expect them.
🛟 Customer Support
I haven't had to use the support so I can't comment on this just yet.
I will update this post over the coming months as I have more interactions and see the general sentiment in my social circles.
Given the developer's reputation, I don't see support becoming an area of concern.
💵 Pricing
SureMembers follows a tiered pricing structure based on the number of sites you want to use it for:
Pro: $99/yr for 1 site
Business: $199/yr for 5 sites
Agency: $299/yr for 10 sites
You may see up to 50% off for special introductory pricing on your first year, but all renews are at full price.
Each plan is a yearly subscription and comes with 24/7 priority support (there is no lifetime deal currently available).
If you want to try it out on your site to decide if it's for you, SureMembers does come with a 30-day "no questions asked" money back guarantee.
🔥 Do I Recommend SureMembers?
It's still in its early stages, but I've really liked the vision behind SureMembers thus far.
I like that it doesn't try to be everything all at once.
It does one thing (content restriction) and it does it well.
The plugin is lightweight and doesn't add any bloat to your site.
It integrates with Gutenberg.
And it integrates seamlessly with SureCart & WooCommerce, meaning you can create an optimized checkout experience for your users.
Overall, if you're looking for a membership plugin that has all the bells & whistles, you might be better suited for MemberPress or WishList Member.
But if you're looking for a lightweight membership solution that doesn't slow your site down, is easy to set up, has a modern UI, and integrates with all your other apps, I think SureMembers is absolutely worth a try.
I'm looking forward to seeing how it evolves over the coming months.
☁️ How to Download
SureMembers can be purchased on their site here.
Start Using SureMembers
If you want a lightweight, easy-to-use membership plugin, it's worth giving SureMembers a try.
That's all for this one.
Hopefully you found this SureMembers review helpful, and be sure to let me know in the comments section below if you ever decide to try it out.
Thanks for reading!
---