Welcome back to the 6th edition of The Lab Report!
Happy Black Friday.
I'm going to share my roundup of the best BFCM deals for you in a second, but first I wanted to share some thoughts.
Honestly I find this time of year to be so conflicting…
On one hand there's some great software out there that's actually having its best sale of the year.
(Or worse, software that's on LTD but switching to a monthly subscription starting next week 😶)
And then on the other hand, sometimes it just feels like plain old consumerism. Buying into hype and FOMO as if you were buying a new TV.
I've seen people posting their AppSumo carts looking like this:
Maybe we should call this professional consumerism. Poor spending habits backed by the well-intent of progressing your career.
It's always going to be hard to find the right balance, but here's some of the criteria I've been using for myself this year:
Is this a product I really wanted 2 months ago?
Have I used this kind of tool for myself or a client site in the past year?
Could I put this product to use tomorrow?
Will it help me save time or make more money?
Will this help me unlock the next level in my career?
No matter how good the deal is, if it doesn't meet at least four of those criteria then it's probably not a smart purchase.
Every time I buy something for future use, I usually don't actually end up using it, or there's a better product available by then.
That being said, when there is a good deal that meets those criteria, it can turn out to be a fantastic buy. Those have saved me hundreds of dollars a month and allowed me to keep building out my skillset.
🔥 The best Black Friday deals for web designers
I've kept this list intentionally short.
These are the tools that I think have the best chance of meeting the criteria above for you.
I'm not sure there are any 'homerun must-buy for everyone' type deals. It mostly depends on what projects you're working on right now.
Personally, I'm picking three of those up.
Newsletter Glue because it looks like it could save me 30min a week starting right away.
Motion.page because I think it could take my websites to the next level and is something I can implement right away.
And lastly, a Fully Jarvis standing desk because my back is begging for it lol.
🦜 A preview of WordPress 5.9
WordPress released their video preview of version 5.9 this week:
They should probably turn off advertising on their channel so I don't have to watch an ad for Webflow every time.
Overall it looks pretty neat.
I'm still just not sold on Gutenberg though.
I love using it for blog posts and simple pages, but when it comes to building a real designed page I find it limited and frustrating to use?
I don't totally know what the end goal is. I like that it's open and extendable, but the website building experience feels more like using Wix than it does building a professional website.
WordPress 5.9 is set to be released January 25th, 2022.
🏎️ SmokingHotSecurityBreach.com
Remember these GoDaddy ads with Danica Patrick 10-15 years ago?
Yeah, those were good.
GoDaddy announced to the United States Security and Exchange Commission (SEC) this week that 1.2 million customers may have had their passwords leaked.
That's all I'm going to say about that. Hopefully you weren't affected.
😢 Check your emojis in Chrome
I discovered this week that emojis are kinda broken in Chrome for desktop right now.
You may want to double-check any site where you used an emoji in a heading or button.
If you have an emoji inside of a bold text element, the emoji will show up monochrome/black & white instead of its normal colour.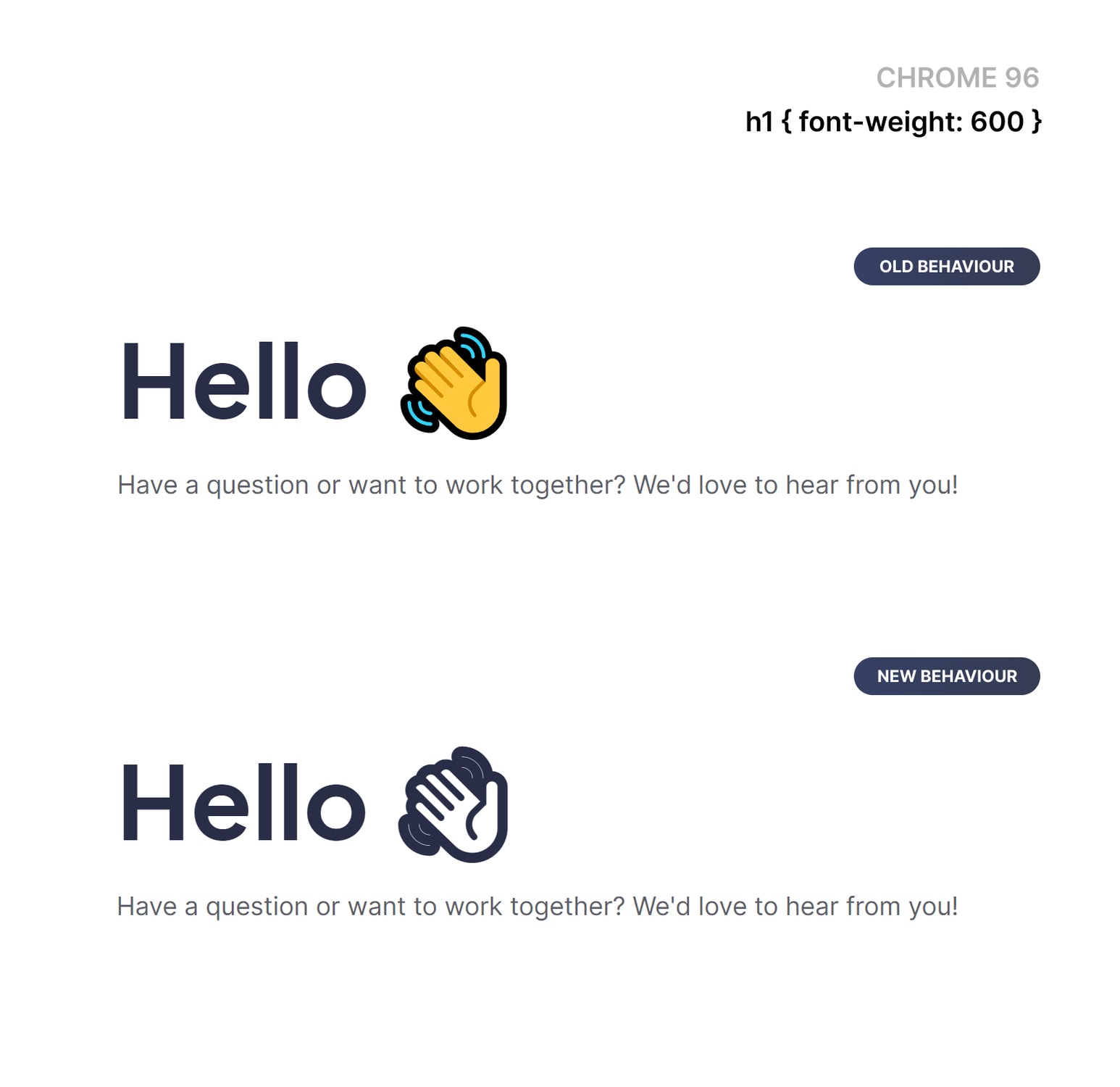 The only fix right now is to give each emoji a span and reset its font weight.
​​Hopefully they release an update soon.
More details on that in my blog post here.
💬 Closing Comments
If you opened and read through this email, honestly, thank you so much.
I've gotten about seven Black Friday promo emails every hour today, so for you to open this one means a lot.
If you've enjoyed this newsletter, think you could share it with a friend?
That's all for this week. I'll have a lot more content coming your way soon.
Stay safe out there!
– Sunny

P.S. I also noticed that most of you haven't joined the FB group yet. We'd love to have you in there!