Welcome back to another edition of The Lab Report!
Fun things are starting to happen.
Black Friday is right around the corner.
This week we also had the launches of both FluentBooking and CodeWP.
(I'm definitely hoping to cover CodeWP in a future newsletter).
As well as the launch of a much lesser known plugin, which I'll be covering below.
Let's dive in!
⚡️ Admin and Site Enhancements: the first new plugin I've been excited for in a while
Aside from the ones listed above, it's hard for me to think of any new plugins that came out this year that have caught my attention.
After seeing it talked about in a Facebook group, I tried out Admin and Site Enhancements earlier this week, and it's actually pretty dope.
Since I probably can't explain it better myself, their tagline is:

"A modular and lightweight WordPress plugin to easily enhance various admin workflows and site aspects while replacing multiple plugins doing it, and saving you time and effort along the way."
Basically it has a ton of little admin functions that you would normally need separate plugins for.
Tbh when I first saw the plugin I was skeptical that it'd offer anything that I'd actually use.
That's definitely not the case though. There are plenty of quality-of-life features built-in.
You can check out the full feature list here, but here are the features I'll personally be using (across various sites).
For Immediate Replacement
Content Order – you can re-order your posts, pages, and more specifically… CPTs. Re-ordering taxonomies is coming soon. This replaces the Post Types Order and Category Order and Taxonomy Terms Order plugins for me.
SVG Upload – no more having to install a separate SVG support plugin!
Open All External Links in New Tab – I believe RankMath has this built-in, but I have some clients using Yoast. They're using a separate plugin for this.
Media Replacement – I don't always need to replace images, but when I do, I usually temporarily install a separate plugin.
Features I Want But Never Want a Plugin For
Content Duplication – you can easily duplicate posts, pages, and CPTs with all their content & metadata still in-tact.
Admin Columns Manager – Whether it'd be taxonomies, featured images or custom fields, you can show custom content in your post columns. This is especially useful for CPTs. They'll be releasing ACF support shortly, and have in-line editing on their roadmap as well 👀
Features I Didn't Know I Needed
Clean Up Admin Bar, Hide Admin Notices, Disable Dashboard Widgets, Admin Menu Organizer – the WP admin is so cluttered. WordPress is rumoured to be addressing that soon, but these help clean things up in the meantime.
Last Login Column – Not sure if I'll actually use this yet, but it's interesting to see the last time certain users have logged in.
Redirect After Login – Since the WP dashboard is essentially useless, I'm going to have my login redirect to my posts instead. Saving clicks all day.
View Admin as Role – this makes it super easy to experience what your other user roles experience on your site/backend.
As you'll see, the features aren't meant to be fully comprehensive and cover everything.
They're lightweight and cover the basics for when you don't need something fancy.
Is it built well?
With any plugin where you get an all-you-can-eat buffet of features, there's the risk of getting 'a whole lotta crap.'
From my short experience so far, I'm impressed by the quality.
Otherwise I probably wouldn't be writing about it.
I've had a couple good chats with the dev Wibowo, and he seems focused on keeping things stable & lightweight.
Pricing
There's a free version on the WP repo that has a number of features included.
ASE is also running a lifetime deal for the Pro version to celebrate its launch.
Since I knew I'd be covering the plugin in this week's newsletter, I asked if they could hook us up.
If you do decide to get the Pro version, you can use this link and use the code NEWPULSE10.
That will get you 10% off any of the LTD plans.
The coupon will be active until October 26th, and is limited to the first 50 purchases.
🕦 Using WPvivid? You might want to check your 'rollback' settings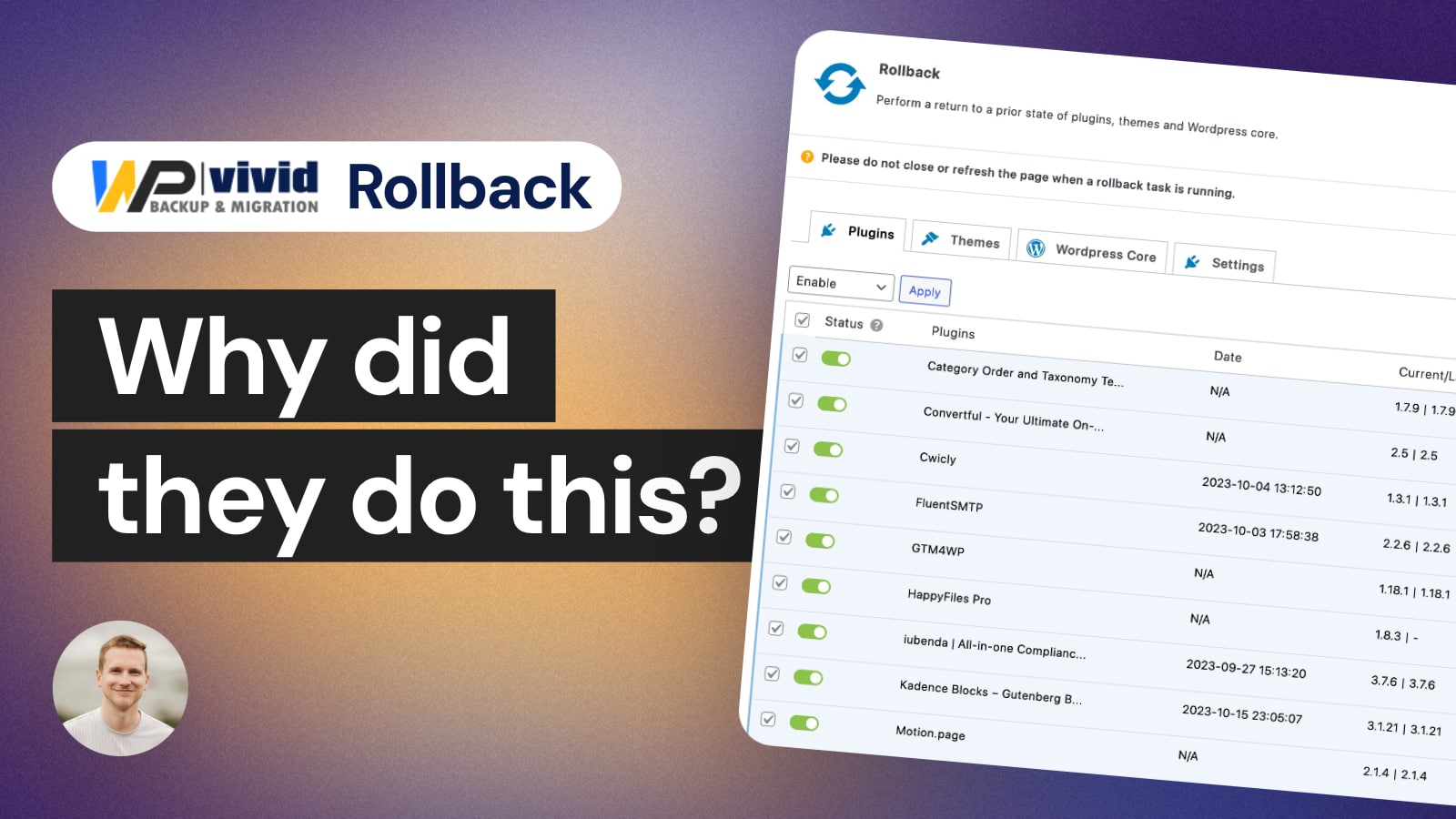 WPvivid recently released their new plugin rollback functionality.
I had the old plugin auto-backup system disabled, so I thought this wouldn't affect me.
To my surprise, I actually now have hundreds of megabytes of plugin backups stored across my sites.
The functionality is cool & all, but the way they implemented it is ungood.
If you're using WPvivid, I'd definitely recommend watching this video and checking to see what settings you have enabled.
👨‍💻 I didn't realize Tim Ferriss was a web designer?
Just a minute honey, I'll almost done.
☁️ Closing Comments
That's all for this week. Thanks a bunch for reading until the end 🙂
If you ever want to discuss any of the topics in this newsletter, I usually post a dedicated thread each week inside of the NewPulse Labs Facebook group.
You can also find previous issues of The Lab Report over at https://newpulselabs.com/newsletter.
Talk soon!