Are you looking for a WordPress page builder that makes it easy to build sites quickly – without adding bloat? If so, you might want to continue reading this review of Breakdance Builder.
When it comes to building a website, speed is everything.
How fast does the editor load in the back-end?
How fast can you build a beautiful, high-converting design?
How fast does your site load for users on the front-end?
Speed can also help with improving cognitive performa…
Ok wow no, we're not talking about that kind of speed.
Damn AI bot.
Anyways, Breakdance Builder is a new page builder for WordPress that recently hit the market, and it promises to help you build pages quickly without slowing down your site or adding any bloat.
In this review, I'm going to look at how Breakdance works, who its for, and whether I'd recommend it in a page builder market that has no shortage of options.
Important Note: If you're like me, you hate reading long reviews just to be directed to some affiliate product that doesn't actually solve your problems. I've personally tested Breakdance, and this review is in no way sponsored or paid for by the product creator. These are my honest thoughts.

That being said, some links may be affiliate links,and I may receive a commission should you want to buy the product. There's no extra cost for you – it's just a little way you can help support us. You can read about our affiliate promise here.
🕺 What is Breakdance Builder?
Breakdance Builder is an easy-to-use visual site builder for WordPress.
It allows you to build websites from start to finish – including custom headers, footers, blog templates and dynamic page layouts – all without touching a line of code.
It comes with over 120 built-in elements, which means you won't need to spend hours building components from scratch.
It's also deeply integrated with WooCommerce, so you can use it to easily add an online store to your site.
Who are the developers behind Breakdance?
Breakdance Builder was built by Louis Reingold and the team at Soflyy.
When it comes to building software for WordPress, this isn't their first rodeo.
Soflyy is the company behind another page builder called Oxygen Builder (more on that in a minute), as well as a popular data migration tool called WP All Import.
They've been around for over 15 years, and their products collectively have more than 200k active installs.
🧑‍💻 Who is Breakdance for?
In theory, Breakdance could be a good option for anyone building a website with WordPress.
Its easy-to-use interface makes it a great option for anyone just starting out with web design, but at the same time it gives you enough flexibility that even more advanced users can use it to build completely custom designs.
But just because anyone can use it doesn't mean that everyone should.
In my opinion, Breakdance is best suited for:
Designers who are just getting into web design
Intermediate/advanced designers who want to build sites quickly and spend less time digging into code
Business owners looking to build their own site
Marketing teams who want to create campaigns on the fly
In terms of the types of sites you can build with it, Breakdance is quite versatile.
You can easily build:
Static brochure sites
Dynamic blogs & magazine sites
Custom WooCommerce stores
Membership sites
Marketing landing pages
Since Breakdance has support for code blocks, post loops, display conditions, and dynamic data, it packs a lot of punch.
You won't find yourself limited by the builder.
Breakdance Builder vs. Oxygen Builder
Because Soflyy now has two different WordPress page builders on the market, there was quite a bit of confusion during its launch.
"Is Breakdance better than Oxygen? Does it replace Oxygen? What's going on??"
You'll find a wide range of thoughts on the matter, but I believe the simplest answer is that it's just different.
Oxygen is a mature builder, and is meant for web designers who want to create code visually. It gives you fine-level control over every div and HTML element on your site.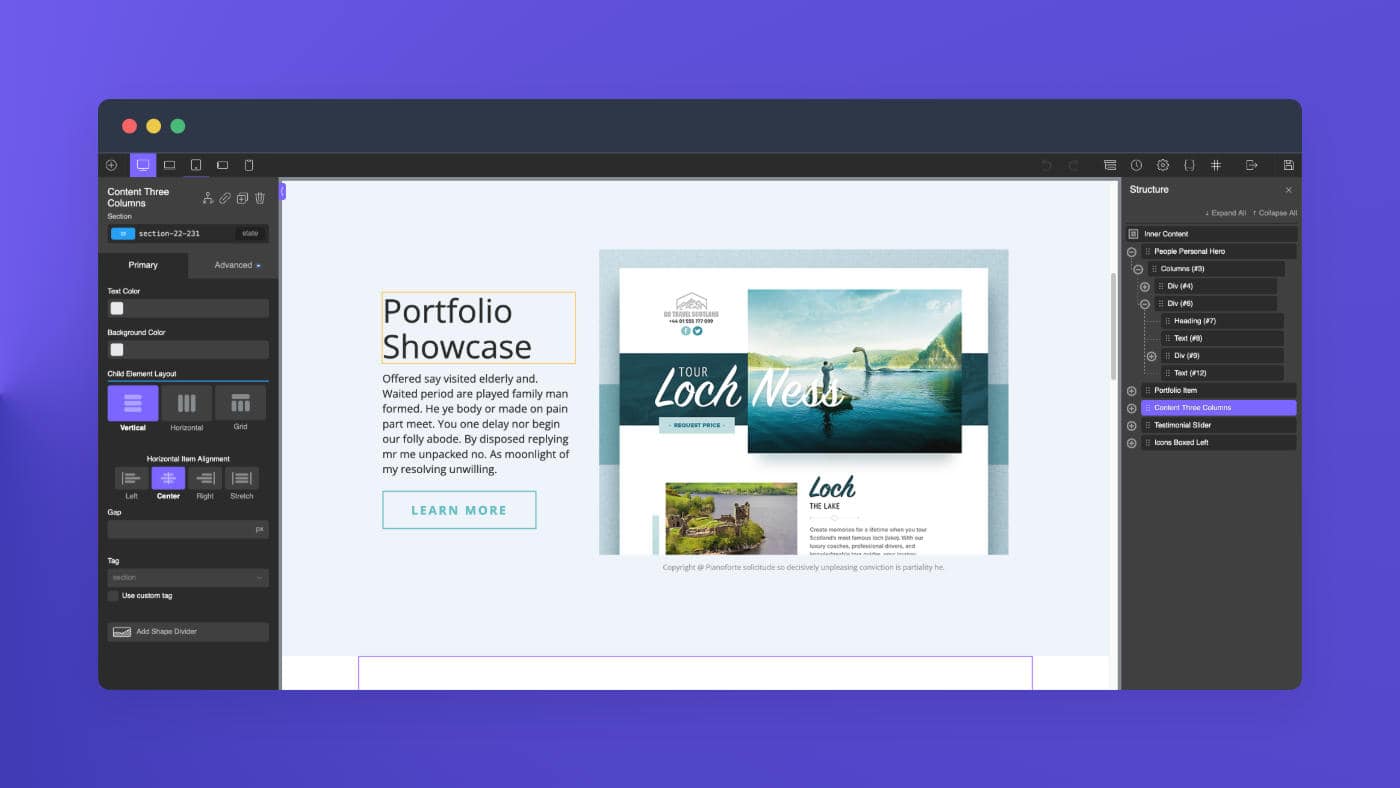 It's for developers who want a Webflow-like experience and swear by CSS classes & frameworks.
Breakdance on the other hand focuses more on building visually.
You don't have to think about proper semantics or CSS properties.
You just drag blocks onto the canvas and play around with their presets.
So it really depends on your needs. If you want code-level control, go with Oxygen.
If you want something easier to use and more focused on the speed of your workflow, Breakdance is the better option.
🎮 How Breakdance Builder Works
Initial Setup
The first thing I recommend doing with any page builder is going through all the settings and make sure you're good with the setup.
In Breakdance, you have the option to keep your WordPress theme or completely disable it.
If you keep it, it'll load your theme's styling, header, footer etc. While this isn't necessarily a bad thing, it may add extra bloat to your site or conflict with the styling of your Breakdance elements.
If you disable it, you'll be able to design your entire site using Breakdance. It also ensures that no random theme files will be loading on your pages.
The preferred option is to go themeless.
If you need a middle-ground, there's also a barebones Breakdance Zero Theme that you can use.
It's useful if you need a theme to support child themes, override plugin templates, or have a functions.php file.
Other than that I'd recommend making yourself familiar with all the settings, but there isn't anything else that needs to be urgently set from the start.
Setting Your Global Styling
The last step before we start building is setting our global styling.
This is what will serve as the default styling for most of the elements we add to our pages.
From here you can set your brand colors, typography, button styling, form styling, and container settings.
Creating a Header and Footer
Next let's create the main structure.
You have the option to have your header & footer apply to all pages on your site, but you can also set a condition if you only want it to appear on specific pages.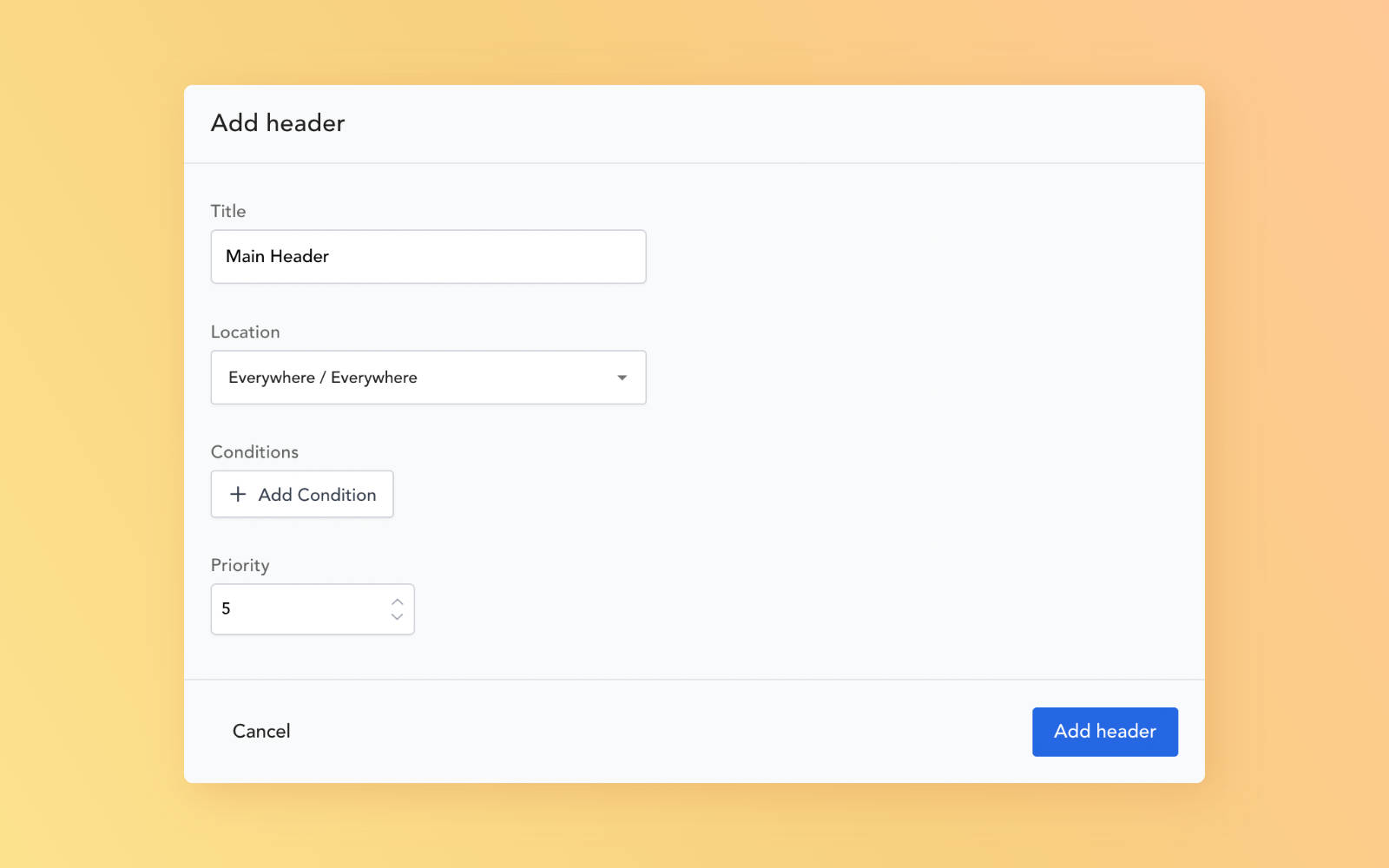 Building nice-looking header with a dropdown menu is almost shockingly easy in Breakdance.
The Header Builder element gives you a good starting point, and includes some sample dropdowns that you can modify or simply delete.
Inside the menu dropdown you're able to nest as many elements as you'd like, including columns, headings, text and buttons.
This makes it really easy to build a mega menu without needing any extra plugins.
Building a Page
All your elements are added using the left sidebar.
You'll find most of the common elements at the top (like Section, Column, Div, Heading, Text, Rich Text), and then a whole bunch more once you scroll down.
There's also a handy search bar if you don't want to spend any time looking for the element you need.
You can either click on the element or drag it right into place on the canvas.
Each element comes with its own content, styling, and advanced controls.
To keep things simple, it only shows you the settings that are relevant to that element. That way you don't need to filter through 100 different CSS properties.
The fact that there are so many elements already available in Breakdance is a huge bonus.
You can add elements like an Icon Box, Pricing Table, FAQ accordion, Progress Bar, Testimonial Slider and a lot more to your page in two seconds.
This will help save you a ton of time, as these types of elements can take a long time to build from scratch.
Using Dynamic Data
Even though Breakdance has a simple interface, it has a lot of advanced features.
You can pull dynamic data from your site, posts, custom post types, ACF fields etc. and use it within most elements.
There is also a Post Loop Builder where you can display a list, grid, or slider of posts based on any query you set.
Display Conditions
Breakdance allows you to set display conditions for every element.
This lets you control where and when an element will appear, and is useful for a wide range of use-cases:
create a membership site by showing/hiding elements based on a member's user role
display more relevant CTAs based on a blog's category
offer a special discount in your top banner for returning users
show a different header for different post types
Creating Forms
Another plugin you won't need to purchase if you use Breakdance is a form plugin.
Breakdance comes with a form builder that's easy to setup but powerful under the surface.
It has more than 14 field types, supports dynamic data & conditional fields, has built-in spam protection, can save submissions to your database, and integrates with most popular email marketing services.
This lets you do more than just create basic contact forms.
You can use it to capture leads, grow your newsletter, create support tickets, or even have users register for an account on your site.
Design Library
The Breakdance team is currently working on an extensive design library, but it hasn't been released yet.
I'll update this review when it is.
Client Editing
A downside of most advanced page builders is that the UI can be pretty overwhelming for clients to use.
With Breakdance, its quite the opposite.
Because the builder is beginner-friendly, your clients will be able to log in and make changes without much trouble.
If you want to take things a step further, Breakdance has an additional "User Access" feature which allows your clients to edit content but not any of the styling or advanced settings.
It's great for giving clients the ability to make content updates without worrying about them potentially breaking something (no more Friday night phone calls! 🫡).
🧩 Integrations
WooCommerce
Breakdance has one of the best WooCommerce integrations out there, with over 20+ WooCommerce-specific elements available.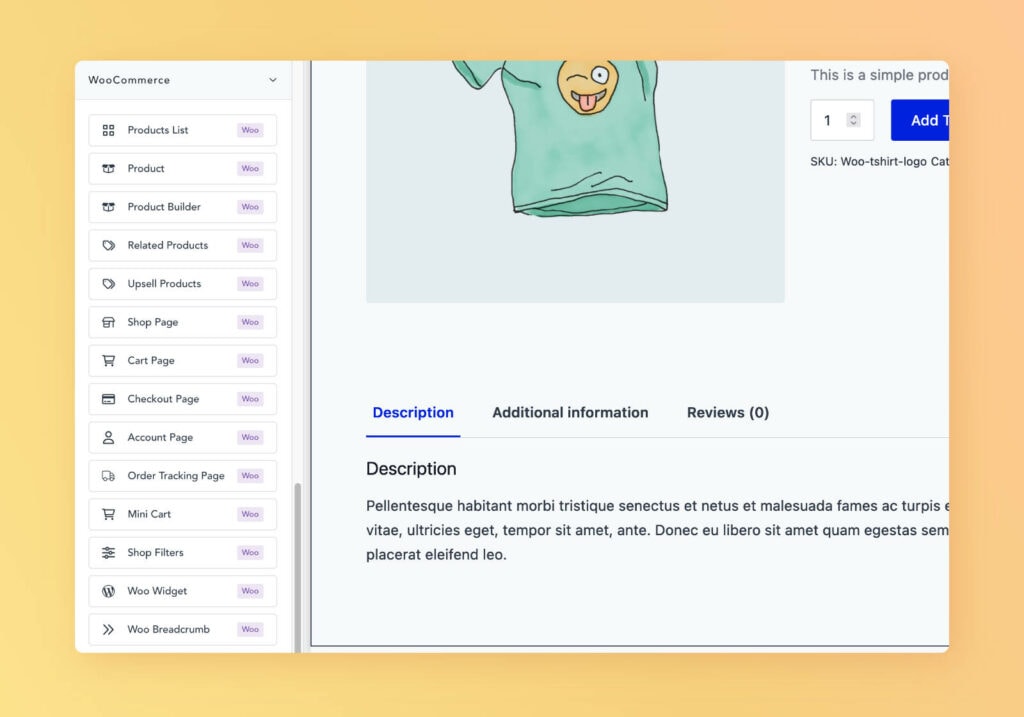 This lets you customize every single aspect of your store.
If you want to create a completely custom product page, you can easily do that. You're not bound to WooCommerce's default templates.
It's not just product pages either.
You can customize your product archives, your cart page, your checkout, and user account pages.
And you can add more advanced elements like a slide-out cart or a product grid filter.
Again, that's two plugin purchases saved right there.
Email Marketing Services
Through your forms, Breakdance integrates with most popular email marketing services, including:
ActiveCampaign
ConvertKit
Drip
GetResponse
MailChimp
MailerLite
Webhooks
If your EMS isn't on the list of native integrations above, you can use a webhook to send your submission info instead.
You can also use your webhook with Zapier, which opens up a whole world of automation possibilities.
SEO
Breakdance currently integrates with Yoast, with RankMath and SEOPress support coming soon.
The integration allows these plugins to read any content you have inside of Breakdance.
Custom Fields
Breakdance already has built-in support for three of the most popular custom field plugins, including Advanced Custom Fields (ACF), Meta Box and Toolset.
🚲 Ease of Use
Breakdance is really easy to use.
Soflyy already has a page builder on the market for advanced users, so the whole point of this builder was to make sure that anyone can use it – regardless of skill level.
If you've used Elementor or Beaver Builder before, then this is going to feel familiar.
You have over 100 pre-made elements to use as a starting point, and elements only show the settings you need to worry about.
You can find advanced controls if you're looking for them, but they never get in the way.
The one thing I will say is that sometimes the advanced controls can be buried inside a few levels of modals, making them harder to access.
I have seen the Breakdance team acknowledge that there's some room for improvement here though, so we'll see how the UI progresses in future versions.
🚀 Site Speed & Performance
When Soflyy first released Oxygen, their whole selling proposition revolved around site speed.
Other page builders suffered from endless div wrappers (better known as divception), huge CSS files, and JS scripts loading regardless of whether you were using fancy elements on the page or not.
Many of the builders have made significant improvements over the last couple years, but even still, only select few compare to Oxygen to this day.
Soflyy has taken the same core philosophy and applied it to Breakdance.
It outputs clean code, dynamically loads assets, and can even remove some of the legacy bloat that comes with WordPress.
As a result, you should see good PageSpeed scores.
Unless of course you install 1000 plugins and load up your pages with huge images 😉
🔍 Search Engine Optimization
You might be wondering – is Breakdance Builder good for SEO?
Before I answer that, let me just say this:
The content you have on your page is what matters most.
If you want to rank well on Google, you need to have high quality content that's relevant to the user's search intent.
If you don't have that, no page builder is going to save you.
If you do have high quality content, then pairing it with Breakdance is going to serve you well.
One thing search engines look at is page speed, and Breakdance does great in that department.
The SEO integrations with Yoast, Rank Math and SEOPress can also help you make sure you're properly optimizing your pages for search engines.
🛟 Customer Support
I haven't had to use Breakdance's customer support yet, so I can't speak on it personally.
I have interacted with the Oxygen and WP All Import support many times in the past though, and they were fantastic.
Rather than hiring a bunch of low-level support reps who can only provide you with canned responses (like a few other page builders do), Soflyy tends to have just a few devs who deeply know what they're talking about.
I'll update this review if I see a different sentiment in their Facebook group, but overall I'd expect customer support to be one of Breakdance's strongpoints.
You can also find all of their documentation available here.
💵 Pricing
Breakdance is currently running a limited-time sale of $149/yr for unlimited websites.
It comes with every feature, and you can use it for unlimited client projects.
If you're a freelancer/agency using it for multiple client sites, you can't really get much better than that.
As a comparison, Elementor's 1000 site license currently sells for $1k/yr.
If you're a single-site owner, $12/mth isn't bad for a full-fledged site builder.
You'll still need your own hosting, but that price is competitive with a Squarespace or Wix.
I would like to see Breakdance add a single-site license in the future, but I'm not sure if that's something they have in the plans.
Does Breakdance have a lifetime deal?
Even though Breakdance is a good value at $149/yr, some people won't be happy that it's a yearly subscription as opposed to a lifetime deal.
I get where they're coming from, especially when Oxygen offers an insane value at $149 as a one-time payment.
That being said, we're starting to see more companies shift away from the LTD model.
It's difficult to sustain a business over the long-term with recurring customer support requests but not recurring income.
It's precisely why Oxygen's development has slowed while Breakdance is moving at a break-neck pace.
That's why I believe it's a good thing that Breakdance is offered as a subscription instead of a lifetime deal.
If you can make the subscription work on your end, consider it as a way you're helping the tool to continue to add features and improve in the future.
🔖 Breakdance Builder Coupon Code
Breakdance doesn't currently have any promo codes available.
I wouldn't spend much time waiting around for one either, as I can't remember the last time Soflyy had a discount available for any of its products.
In fact, they once had a promotion on Black Friday that RAISED the price of Oxygen Builder by 25%.
If they ever decide to change their approach, I'll definitely include the coupon code here.
🔥 Do I Recommend Breakdance?
Honestly, I didn't expect to like Breakdance as much as I do.
I'm someone who prefers to have all the bells & whistles, even if that means a steeper learning curve or a slightly slower workflow.
However, there's something refreshing about being able to build websites without worrying about code.
Just dragging-and-dropping elements onto a canvas, quickly styling them, and moving on.
Here's what I'd say.
If you have a developer background and want to dig into your website's code, Breakdance probably isn't for you (I'd recommend Bricks, Oxygen, or Cwicly instead).
While it does still have advanced controls if you need them, they're usually buried in favor of a simpler UI.
If you're looking to quickly and easily build high-performing sites for your clients, then I personally think Breakdance is a great option.
It has all the perks of an easy-to-use page builder, but doesn't come with any of the bloat that many other page builders suffer from.
It strikes a nice balance of design flexibility and simplicity, and it can save you a lot of time in the long run.
☁️ How to Download Breakdance Builder
You can purchase Breakdance on their website here.
Start Using Breakdance
If you want a page builder that lets you build sites quickly and without bloat, it's worth giving Breakdance Builder a try.
That's all for this one.
Hopefully you found this Breakdance Builder review helpful, and be sure to let me know in the comments section below if you ever decide to try it out.
Thanks for reading!
---